Discover the Great Glen Way with Loch Ness Travel – a 79-mile trail through stunning Scottish landscapes, including lochs, castles, and Highland villages. Whether you're an experienced hiker or a leisurely stroller, the Great Glen Way has something for everyone. Follow us as we guide you through each stage of the trail, providing insider tips and recommendations to make your journey unforgettable. Take advantage of our baggage transportation service, allowing you to enjoy the breath taking scenery without the added stress of carrying heavy bags. Start your adventure with Loch Ness Travel today. Book Now. 
Opt for Loch Ness Travel's Abriachan Shuttle Transfer and enjoy the convenience of breaking up the last and longest section of the Great Glen Way into two stages. Check out the "Suggested Stages Section" below for more details. Make the most out of your hiking experience with our top-rated transfer service. Choose Loch Ness Travel today!
Take the hassle out of hiking or cycling the Great Glen Way with your bags and our let our baggage transfer service do the heavy lifting for you.
The Great Glen Way, stretches 79 miles (127km) coast to coast across the Scottish Highlands from Fort William on the Atlantic west coast to Inverness on the North Sea. It is one of Scotland's official Great Trails following the geological fault of the Great Glen.
The trail includes some of Scotland's most breath-taking scenery. Starting from the Old Fort in Fort William in the shadow of Britain's highest mountain, Ben Nevis it runs alongside Loch Linnhe and then follows the towpath of Thomas Telford's historic Caledonian Canal through Neptune's staircase and on towards Loch Lochy and then Loch Oich. From here it partly follows the route of the dismantled Invergarry and Fort Augustus Railway before returning to the canal towpath to Fort Augustus. The route then climbs up through the forest above the shores of Loch Ness and onto the open hillside (there is a low route option). The route continues along the hillside next to Loch Ness climbing down into Invermoriston before rising again towards Drumnadrochit and providing fantastic views of Loch Ness from this high route – again, a lower route is available. The final stretch out of the village of Drumnadrochit involves a significant climb up to Abriachan before a gradual descent down to Inverness with magnificent views of the Highlands and then follows the later section of the Caledonian Canal before ending at Inverness Castle.
If you choose to break this section into 2 stages – Day 1 -Transfer from your Drumnadrochit accommodation to Abriachan and walk back to Drumnadrochit. 
Day 2 – Shuttle Transfer to Abriachan to walk on to complete the trail in Inverness.
The route is generally undertaken over 5/6/7 consecutive days. Additional days can be incorporated to allow you to soak up village life and see more of the attractions such as Urquhart Castle or Loch Ness Exhibition – or even take a cruise on Loch Ness itself. Making memories to last a lifetime.
To take the hassle out of hiking with your bags book our baggage transfer service at any point of the Great Glen Way and we will take your bags to your next destination. Book Now.
The Route & Suggested Stages
Section 1: Fort William to Gairlochy
(17km, approx. 4-4.5 hours)
The Great Glen Way starts in Fort William, taking you passed the great munro of Ben Nevis where you will then join the Caledonian Canal and follow it to the village of Gairlochy.
Section 2: Gairlochy to Laggan Locks
 (19km, approx. 4.5-5 hours)
The next section of the Great Glen Way takes you along the full length of Loch Lochy, a vast Loch in the Great Glen. This section finishes in South Laggan where there is limited accommodation options. You can either continue for a further 4 miles to the village of Invergarry or book our transfer service and we can collect you and take you to your chosen accommodation.
Section 3: Laggan Locks to Fort Augustus
(17.5km, approx. 4-4.5 hours)
Beginning on Laggan Avenue, this section of the Great Glen Way follows alongside Loch Oich before reaching the Caledonian Canal again which leads you to the picturesque village of Fort Augustus. There is a selection of places to stay and eat in Fort Augustus.
Section 4: Fort Augustus to Invermoriston
There are two options for this next section of the Great Glen Way, either taking the low route through the forest or the high route that takes you up above Loch Ness. Either route boasts some of the best views the Highlands has to offer! The section ends in the small village of Invermoriston.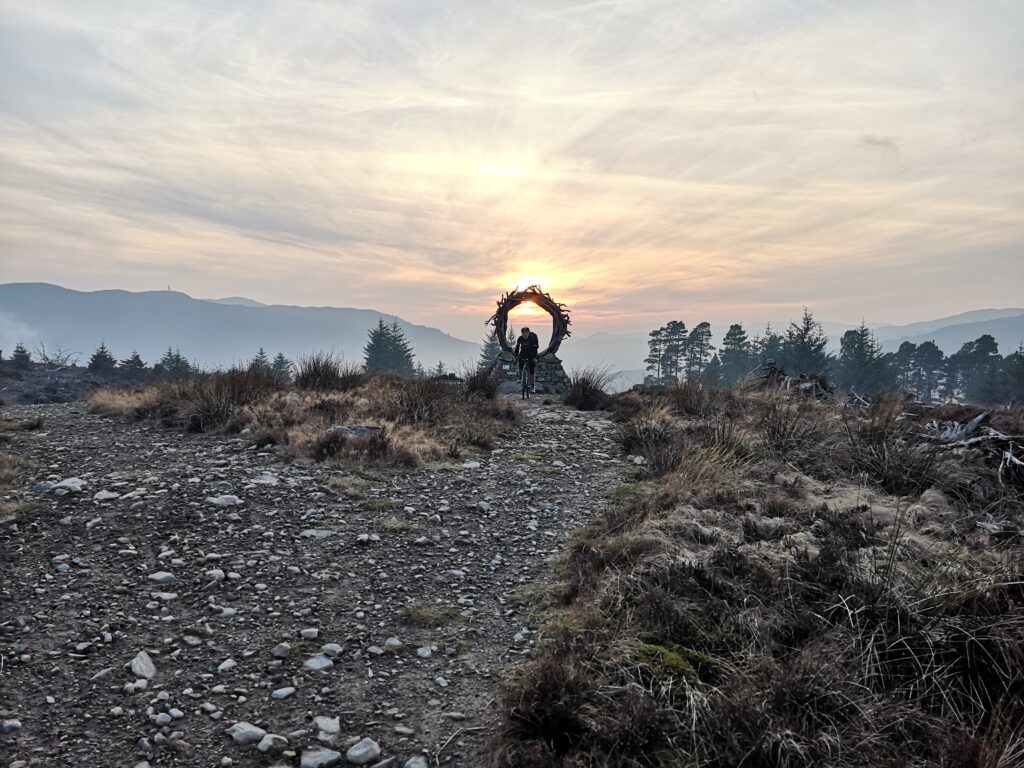 Section 5: Invermoriston to Drumnadrochit
(23.5km, approx. 6-7.5 hours)
Again, there is the option to take either the high or low route. The low route takes you through the forestry with the frequent glimpse of Loch Ness through the trees. The high route continues up above Loch Ness providing some really fantastic views. Both routes finish in the village of Drumnadrochit where there is a variety of options for accommodation and eating out.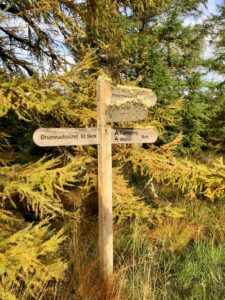 Section 6: Options: 1 or 2 stages.
Drumnadrochit to Inverness
The final stretch of the Great Glen Way is the longest section of the route taking around 7 to 9 hours to complete. 
However you plan to do this final section, there are fantastic views of Loch Ness. The Great Glen Way ends in the city of Inverness where there is an array of places to eat, drink and stay and great transport links.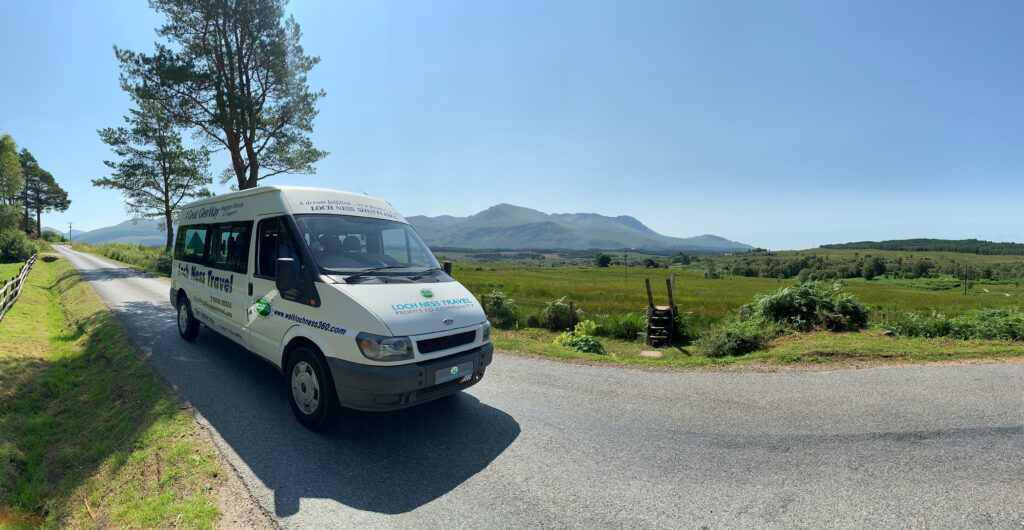 Day 1 Abriachan to Drumnadrochit
Selecting 2 stages means you walk 5 miles downhill from Abriachan, instead of uphill and the best views are in front of you! 
Day 2 Abriachan to Inverness
If you'd like to split the walk into 2 stages, you can book with us to drop you at Abriachan Forest and walk back to your Drumnadrochit Accommodation, then on Day 2, we take you back to Abriachan to walk on to Invenress.  Our drivers are flexible as to your drop off point, giving you the option to do a longer walk on Day 1 or 2, also allowing felixibility on any transport restrictions, (flight/train times), and how tired or sore you are feeling! 
Abriachan shuttle transfer and 2 stage option requires 2 x nights accommodation in Drumandrochit
*Only available to Loch Ness Travel baggage transfer customers. 
Great Glen Way Merchandise
Now available online and in store at Loch Ness Hub, Drumnadrochit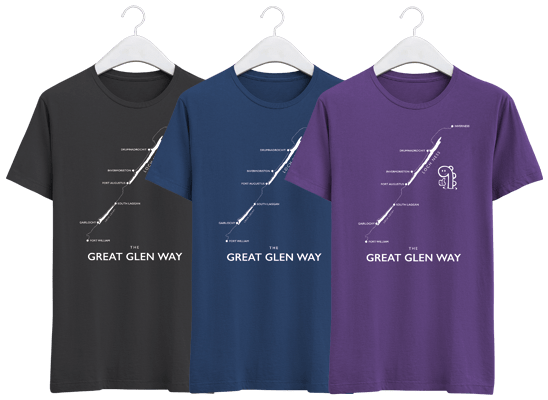 Check out some of the other routes we cover here in the Highlands!
If you have any questions, please contact us and our team will be more than happy to help.