About Loch Ness Hub & Travel
Loch Ness Hub is a Community Benefit Society and it owns and operates Loch Ness Travel.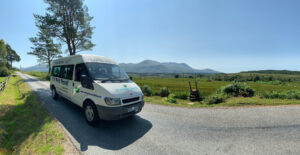 Loch Ness Travel was the brainchild of George Simpson, a local resident of over 45 years. George set up Loch Ness Travel in 1991 with the commencement of personalised and guided tours of Loch Ness and the surrounding area including the Highlands and Islands of Scotland for Individuals or Groups.
In 2002 he expanded the business to include a baggage transfer service along the 79 mile length of the Great Glen Way. The service operated "Door2Door" baggage transfers along the entire route in both directions between Easter and mid-October. 
Additional routes were added to the portfolio along the way. Now Loch Ness Travel services Loch Ness 360, the South Loch Ness Trail, Affric-Kintail Way, East Highland Way and the Coast2Coast trail from Fort William to Montrose via Aviemore for mountain bikers.
In 2018 Visit Scotland vacated the Tourist Information Centre in Drumnadrochit carpark. This led the community under guidance of GURCA (Glen Urquhart Rural Community Association) to investigate the possibility of an asset transfer of the building and bring it back into use under community ownership.
During 2019 Highland Council allowed GURCA use of the visitor information centre on a "try before you buy" basis. This provided an opportunity for a test run of the services being proposed for the Loch Ness Hub and enabled local groups to show support and engage with the project. Volunteers were involved in decorating the building prior to opening for the season and local groups used the venue to showcase information and activities of interest to visitors. This provided the necessary information to ascertain that the project would be viable and as a result Loch Ness Hub was born.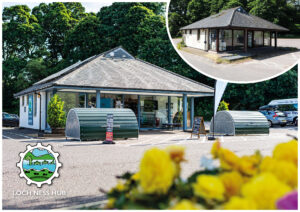 It was acknowledged by both GURCA, Loch Ness Hub and the Community that to make the project sustainable additional income streams would be required. At this point George floated the idea of selling Local Ness Travel to Loch Ness Hub thus providing an ideal opportunity for an additional income stream.
Loch Ness Hub Ltd was then created as a BenCom which allowed it then to raise funds for the purchase of Loch Ness travel through a Community Share Offer. In September 2020 the share offer was launched and it closed in October 2020 having raised an amazing £110,000 and meeting the target it had set.
Loch Ness Travel part of Loch Ness Hub
With the share target met and funding from SSE and Soirbheas, the purchase of Loch Ness Travel completed in February 2021 with George agreeing to stay on in a consultancy role to oversee the smooth transition of the service. The profit from Loch Ness Travel will fund the running of Loch Ness Hub with any surplus being ploughed back into the community via GURCA.
Putting Profits back into the community via Glen Urquhart Rural Association
To find out more visit our story told through DTAS click here